Control the Precision of Steel Part with Jig
In addition to prototyping parts with not so tight tolerance (0.05mm-0.1mm), we are capable to provide precise steel parts.
The steel part below is a little complicate and in tolerance as tight as 0.02mm. There is much challenge in controlling its tolerance if it needs hardening, wire cutting and there is slope on the outside structure.
However, with the aim of providing excellent service and top quality to satisfy our customer, we tried way to overcome the difficulty. If we encounter the similar project next time, we are able to handle it successfully.
We would like to share the process of part and the experience of how we solved the problem to make the part achieve customer's request. Hope you can benefit from this case.
1. Choose the right raw steel material
Purchase the right steel and check the quality after customer places an order.
2. CNC milling
Program the part and have it milled roughly out.
3. Drilling and threading holes
After the steel part was simply machined out, we would add holes or tap the holes according to the specific instruction of 2D file.
If there is any discrepancy between 2D and 3D, we will inform and ask confirmation from customer. After being confirmed by customer, we will change accordingly.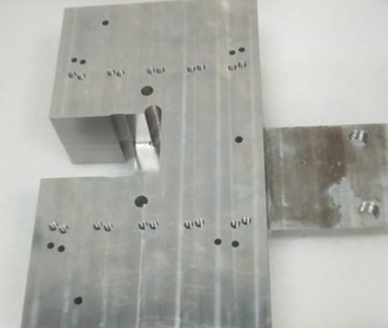 Most importantly, if steel part need heat treatment, it is better to have confirmation early. If not, it will be relatively difficult to have change or improvement after hardening because the part will be pretty hard after heat treatment.
If the part after heat treatment need to repair, it will need to anneal to descend its hardness because the part may can't be machined if it is too hard.
4. Pre-hard
After machining the holes, the part would be pre-harded to get the hardness required. The heat treatment would be before wire cutting to prevent deformation.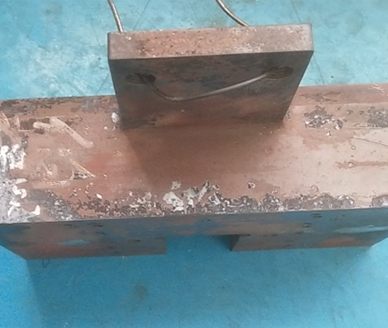 5. Wire cutting
We met challenge during wire cutting. There were a lot of straight angles for the part so it needed wire cutting or EDM. But it was hard to control tolerance with wire cutting, especially with the slope outside the part.
In order to get thing done smoothly, we needed to customize a jig for it during cutting and cut it carefully and slowly to guarantee the tolerance and precision.
If without caution, there would be great possibility to destroy the part and all effort would be in vain. It would take time and cost to remake a new part.
Fortunately, the part was finally finished perfectly after a lot of effort made.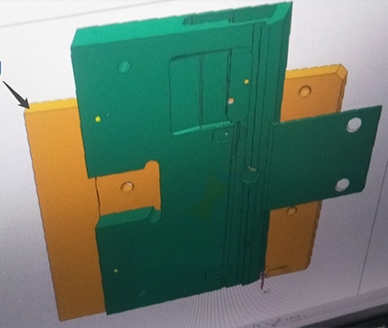 6. Black oxide
The part would have black oxide as customer's requirement when all processes were finished.
Black oxide on part was helpful to resist erosion and protect the surface.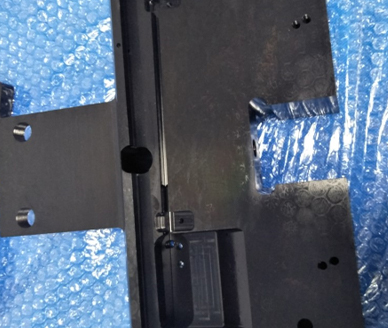 7. Quality inspection
When the part was ready, our inspectors would check its size, hole, quality, tolerance carefully to ensure it achieved the standard of customer. With experience, our inspectors are able to give great supervision on the quality of parts and strict to the quality. There is any question found, they will point out and the part will not be shipped until it is repaired.
Do you need reliable prototype service and do you need professional advice for your part? Please contact us, we will reply quickly.